So recently I took a whole week off to work on personal projects. I started by creating a list of things I wanted to achieve in that week, mainly things I'd not quite got to in my normal downtime and then expanded from there. Despite trying to not let this list grow too big - for fear of building an insurmountable task list - I managed to keep it to two main projects and a handful of smaller separate tasks.
The two main projects were deliberately not related, with the idea of being able to spend alternate days on each, or simply swapping when I got stuck or simply needed a change.
Unfortunately I never quite got started on these two projects but did make major progress on nearly everything else. These included rebuilding my file server, regular exercise, rebuilding my desktop pc, catching up on recent TV and a laundry list of random odd jobs around the house.
The file server rebuild deserves a whole post so I'll keep that separate.
The desktop PC was simply an overdue thing. My previous main desktop died (north bridge failure) probably about 2 years ago. Since then I used an Asrock Atom330 as a desktop which then became my media pc and then an AMD based desktop (which began life as a bitcoin mining box). The AMD machine had to run windows due to the linux ati drivers being an epic pile of crap.
So to cut to the chase, I replaced the whole machine;
I think the thing I was most impressed with was at idle the machine uses 40W and at 100%CPU and 100%GPU (CUDA) it was pulling 220W. Oh and I'm back on linux again too which is nice.
The graphics card barely fit in too, which was funny.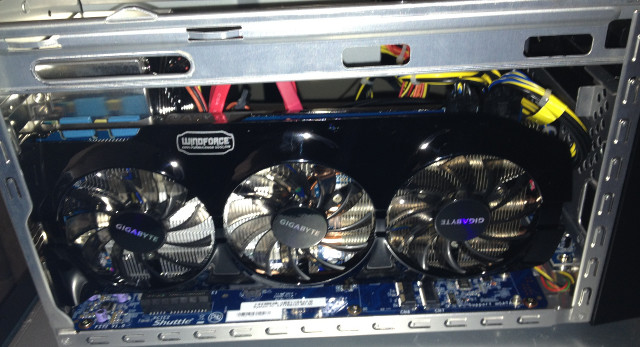 That'll do for now. The file server rebuild post is going to be huge!